Many companies focus all their communications outwards – to customers and prospective customers.
However, here at Tigerfish PR, we're big believers in having a two-way dialogue with staff. Why? Because they are your brand advocates. The ones who are the 'face of the business' every-time they speak to customers. The ones who need to understand the challenges you face. The ones who need to know about business successes. The ones with the solutions very often!
Employees provide customer service, use their ingenuity to design new products/services, make organisations work. And all employees should feel part of a team, and understand the vision of their company.
Let Tigerfish PR help you communicate effectively with your team through:
Newsletters
Open days
Social media
We work with our clients to find the best way to communicate with their team, designing, writing and printing material, or creating it in digital form – whatever suits your workforce best.
Peel Ports Ltd Testimonial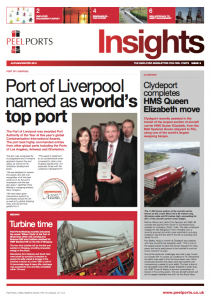 "I'd worked with TigerfishPR before, so when Peel Ports needed a staff newsletter I felt Amanda's approach would fit well with our business.  At the time we had to communicate a number of corporate messages across the company. We wanted to ensure a clear and consistent message reached our diverse workforce; many of whom did not have direct access to email or worked unsociable hours.

"Reaction to the design and content of the newsletter was very positive. It was pitched at just the right level, given the diverse audience it had to reach.  It was interesting and informative, and there was something for everyone in the publication. The newsletter was used for a variety of purposes from careers and trade fairs, customer meetings and employer branding material.

"Amanda is a very engaging person to work with; she's intelligent, great fun and brings a lot of energy to projects. More importantly, she really cares about the quality of the end-product she produces and that level of personal service is vital in all businesses."

Howard Sloane, Group HR Director

Peel Ports Ltd